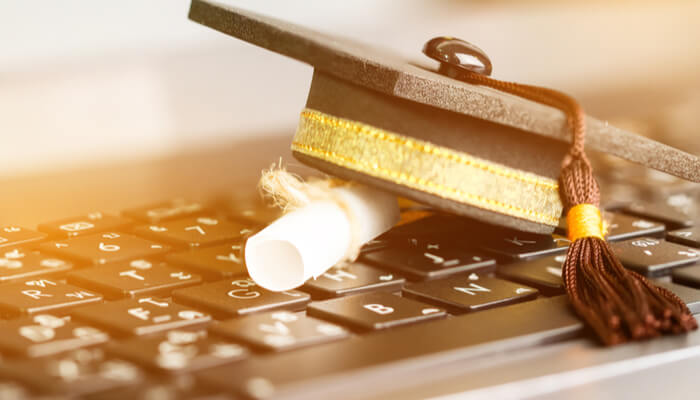 So you're interested in working toward an associate degree in business online, and you want to know what you're in for. Well, we're here to give you the long and short of it.
A quick online search will tell you that you can earn an associate degree within two years . This is true; an associate degree is often referred to as a two-year degree because it requires around 60 credits. As a full-time student, it's common to complete those 60 semester credits (or 90 quarter credit hours) within two calendar years, minus the summer.
However, nontraditional learning, online course flexibility and specific program requirements–like field experience–can lengthen or shorten your personal timeline to graduation. Multiple sources now agree that the average time to complete an associate degree is about one year and six month.
It's important to understand the academic path you walk may not look like that of your peers. Below, we explain why.
Let's begin with the basics
You can earn an associate degree online via post-secondary institutions, like community colleges, trade schools and four-year colleges and universities. Earning your associate through a four-year college or university will allow you a seamless progression into a bachelor's degree without having to transfer schools. But when it comes to tuition, technical schools and community colleges are much more affordable.
In the case of a business degree, online associate degree programs are aplenty . The following are specific types of associate degrees with which you can major in business: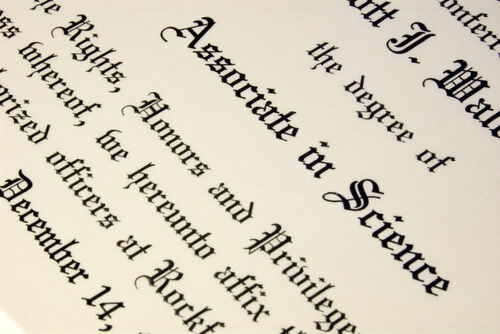 Associate of Science (AS)
Associate of Arts (AA)
Associate of Applied Business (AAB)
Associate of Applied Science (AAS)
Associate of Business Administration (ABA)
Additionally, some online business degree programs at the associate level allow you to narrow your major down to one area of business, such as human resources or business information systems.
Regardless of the type of school or degree, you want to make sure that the program you are considering is accredited by one or more reputable organizations. For example, accreditation from the Accreditation Council for Business Schools and Programs (ACBSP) or from the Distance Education Accrediting Commission signifies a high-quality degree program.
Now, what can shorten your time to an online associate degree in business?
Transferable College Credit
Most high schools offer the following options for anyone looking to earn college credits before becoming a college student, like:
Advanced Placement (AP) tests
International Baccalaureate (IB) exams
College Level Examination Program (CLEP) exams
Dual enrollment
Summer or Winter study sessions
Taking advantage of any of these opportunities can shorten the time it takes you to earn any kind of degree because of the college credits you'll earn from successfully completing these exams or programs. The same goes for anyone with former college-level schooling.
If you are a nontraditional college student or you're unable to access those programs, CLEP exams are still accessible through your college or university. There are also a number of free online courses (aka MOOCs ) that will prepare you for a particular CLEP exam. Modern States offers a variety of CLEP and AP prep courses, completely free. Other MOOCs exist out there that might count toward your degree, but be sure to check this with your advisor before taking on the extra work.
Finally, some schools will accept prior work experience as credit toward your degree. Don't hesitate to reach out to your advisor and ask about turning work/life experience into college credit to speed up your degree program.
Each college and university have their own guidelines for accepting transferred credits from outside institutions, but the average school will accept around 15 transferable credits. That's a whole quarter of your associate degree program that you could acquire before evening starting your classes.
Realistically, the shortest online associate degree program you will find has a duration of 12 months. This timeline is true if you enter the program without any college credits and you're able to dedicate most of your daily life to completing your associate degree in business.
Accelerated programs are condensed and therefore fast-paced and work-intensive because you are learning the same amount of content, just in half the time. Because of this, completing an accelerated program requires much more dedication and discipline from the student than your average online degree might. Today, more and more lower-level courses are available online in accelerated formats, allowing students the opportunity to breeze through a full course in just three weeks.
One of the most common accelerated business degrees online is the Associate of Business Administration (ABA), which can get you into an entry-level management or leadership position after graduation. You can sometimes even choose between a program designed to get you into the workforce, or a slightly different structure that helps you continue on to a bachelor's degree program.
Accelerate Yourself
Depending on the course availability at your college, you can plan out your own accelerated schedule if the school doesn't offer one. Both summer and winter terms (sometimes referred to as J-term or January term) offer extra time for you to complete classes "ahead of schedule." Almost any online degree program is easily accelerated by taking advantage of the months that many students use for vacationing or relaxing with family.
Everything considered, most online classes are already accelerated because they run on 8- or 5-week schedules, rather than the 15-week courses in on-campus programs. By taking advantage of those breaks within the traditional academic calendar, you can complete your online associate degree in business much faster.
OK, so what lengthens your journey to earning this degree?
Having a Life
Let's face it, many–if not most–online learners are considered nontraditional college students . As per the National Center for Education Statistics, you are a nontraditional student if you meet any of the following characteristics:
Delayed enrollment into postsecondary education
Attends college part-time
Works full time
Is financially independent for financial aid purposes
Has dependents other than a spouse
Is a single parent
Or does not have a high school diploma
Essentially, if you've built a life outside of being a full-time student from high school through college, you are nontraditional. While some are more than capable of handling a healthy and productive school-work-life balance, others have fuller plates or struggle with the constant multitasking. There's absolutely nothing wrong with the latter!
All nontraditional students should truly pat themselves on the back because it isn't easy. Just understand that, as someone balancing more than just books, you may take some extra time to graduate.
Luckily, most online associate degree programs are designed so that nontraditional students or slower learners can take as little as one course at a time , instead of the standard five-course schedule. Other programs may have a minimum required number of credits that you must take each semester in order to keep students on schedule. Working through college part-time, at any capacity, makes earning a degree more accessible to many more students. Learning part-time instead of full-time , however, will increase the time it takes to complete your program.
More Credits
Not all associate degrees can be chalked up as a two-year or 60-credit program. In fact, online associate degree programs tend to have credit requirements all over the board, whether you're a business major or not. In fact, it's becoming more popular for associate degree programs to require closer to around 70 credit hours to graduate.
For example, Colorado Tech has an online program that leads to an Associate of Science in Business Administration. This program is high-quality with an ACBSP accreditation, as well as an accelerated option. However, you must complete a whopping 93 credits in order to graduate from this program.
If the program is of higher-quality, you might consider lengthening your time to graduation in order to get a more well-rounded education. Lengthier associate degree programs can better prepare you for the real world or higher-paying positions.
Bonus Degree Requirements
Business degree programs at the associate level can come with their own special requirements you must meet in order to graduate. Things like internships, team projects or other in-the-field experiences could require an extra term to complete.
Similar to the programs requiring more than 60 credits, you should look at that extra time spent as a good thing! Business is one of those fields where experience is as important as what you learn from textbooks. Completing these kinds of projects and real-world experiences will beef up your resume and put you ahead, professionally, of your peers from other programs.
Synchronous v. Asynchronous
These are two different styles of online learning. Synchronous learning means that you're working through your courses in sync with the rest of your classmates. In a synchronous course, you and your classmates will be expected to log in for classes on certain days, at certain times, working in-step with one another. This style of online learning can extend the time it takes to get through a course, but it also lends to more collaboration between you, your classmates and your professor.
Asynchronous courses allow you to work whenever you want, at whatever pace you'd like. In some asynchronous college courses, the professor will post all of the course content upfront so that you can power through it all as fast as you can handle.
In the end, earning an online associate degree in business can take less than one year or up to five years. You will be the one to determine your personal timeline to graduation based on your background, lifestyle, and goals.
Related Resources: