The most beautiful things in life often come with hefty price tags, especially when it comes to college tuition, but not all of the most beautiful college campuses are out of reach. Actually, some of the cheapest colleges that we've featured on our site are situated on some pretty eye-catching spots. And we have a list of our top 35 right here.
Being a student at a college with a stunning campus has numerous perks. No matter how far you have to walk in between classes, you get to gaze upon elegant structures and lush greenery on your way. Studying on the banks of a shimmering pond or on a grassy mall absolutely beats the stuffy dorm room. Plus, you will get to hold your head high, knowing that your education is coming from a campus that others envy.
So why aim to go to a cheap college when you can get an affordable education at one of the most beautiful college campuses in the country? The methodology used to create the following list is explained at the end of the article.
35. Colorado Mountain College
Glenwood Springs, CO
Colorado Mountain College's location among the Colorado Rockies helped land this school among our great value colleges with beautiful campuses.
Points Awarded: 5
Net Cost: $9,523
The Colorado Mountain College is a network of 11 community college campuses in western Colorado that now offers five bachelor's degrees: a bachelor of applied science, business administration, elementary education, nursing, and sustainability studies. The Spring Valley campus is situated next to the Roaring Fork River with vistas of the Colorado Rockies on the horizon.
The city of Glenwood Springs was ranked as the fifth "Best Place to Live" by Outside Magazine in 2015. Plus, the school utilizes its location through courses that take students into the wilderness for outdoor studies or natural resource management, employment opportunities at the Rocky Mountain ski resorts and four-diamond restaurants and capturing the natural beauty of the area through visual arts.
34. Shepherd University
Shepherdstown, WV
McMurran Hall was the first building occupied by Shepherd University, helping the school make our list of great value colleges with beautiful campuses.
Points Awarded: 5
Net Cost: $9,074
Rezin Shepherd, the great grandson of Shepherd University founder Thomas Shepherd designed the central portion of today's Greek Revival-style McMurran Hall, which was the first building occupied by the university when it was founded in 1871. The "Town Clock" within McMurran Hall's tower was a gift from Rezin to the Trinity Episcopal Church in 1842.
Shepherd University's campus is located along the banks of the Potomac River in the Shenandoah Valley. The historic town of Shepherdstown is the oldest in the state, and the natural environment of the area provides a unique learning-living environment, historic landmarks like Harpers Ferry and a place for outdoor enthusiasts in the Chesapeake and Ohio Canal National Historical Park.
33. Montana State University
Bozeman, MT
Montana State University is one of our great value colleges with beautiful campuses partly because of its location in Bozeman, surrounded by mountain ranges.
Points Awarded: 6
Net Cost: $14,326
Students who go to Montana State University have numerous skiing, hiking, camping, biking, climbing and fishing options because Bozeman is surrounded by five mountain ranges, including the Bridger, Tobacco Root, Big Belt, Gallatin and Madison ranges. The Gallatin, Madison and Yellowstone Rivers are all within a half hour of campus.
Montana Hall is the architectural centerpiece of campus, and both Montana and Taylor Hall were constructed in 1896; although Taylor Hall was the first to open.
32. University of Montana Western
Dillon, MT
The stunning Main Building at the University of Montana Western helped place this school among our great value colleges with beautiful campuses.
Points Awarded: 6
Net Cost: $9,558
The Main Building at the University of Montana Western is the most notable architectural feature of this beautiful 39-acre campus with its deep red brick and castle-like spires. In addition to the main campus, the University of Montana Western Outdoor Education Center is on seven acres of land at Birch Creek, leased from the United States Forest Service.
Two recent U.S. News & World Report rankings placed Montana Western among the best in the nation and second among "colleges that offer small classes on a budget." The natural landscape offers students premier skiing, hunting, hiking, biking, climbing, and fly-fishing, as well as Yellowstone, Glacier, and Teton national parks nearby campus.
31. Western State Colorado University
Gunnison, CO
WSCU is the fourth-oldest public college in Colorado and one of our great value colleges with beautiful campuses.
Points Awarded: 7
Net Cost: $14,792
Nestled among the Colorado Rocky Mountains in the Gunnison Valley, 130 acres of trees and lushly-landscaped green spaces. Western State Colorado University is the fourth-oldest public college in the state, with some of the world's best powder for skiing, granite faces for bouldering and climbing, miles of trails to hike and mountain bike, and a whitewater park perfect for kayaking and rafting all just minutes away from campus.
One notable feature on this campus, which is just nine miles from the Blue Mesa Reservoir, is Taylor Hall. This building with its beautifully-pillared entrance was started in 1910 and completed in three phases in 1929.
30. University of Idaho
Moscow, ID
Among our great value colleges with beautiful campuses is the University of Idaho for its arboretum, botanical garden and Administration Building.
Points Awarded: 7
Net Cost: $14,445
The area around the University of Idaho is surrounded by the rolling Palouse Hills and is considered so beautiful that it was featured in National Geographic Magazine. Outside Magazine also ranked this university among its top 30 in the nation as a "great university to hit the books and backcountry."
This campus is home to the Shattuck Arboretum and a botanical garden right next to the university's golf course. One of the more striking architectural sights on campus is the Administration building with its dark red brick and clock tower.
29. Appalachian State University
Boone, NC
Appalachian State University's location among the Blue Ridge Mountains makes it one of our great value colleges with beautiful campuses.
Points Awarded: 7
Net Cost: $11,508
Nestled among North Carolina's Blue Ridge Mountains, the scenic town of Boone has an elevation of 3,333 feet, making Appalachian State University the highest elevation for a college campus east of the Mississippi River. Appalachian has a unique partnership with the Blue Ridge Parkway, which is less than five miles from campus. According to the school, "Students in a wide variety of majors can complete internships, be part of the Appalachian Parkway Corps to educate visitors, or relax along the 469-mile scenic road."
One of the prettiest spots on campus is Durham Park, where students can relax and enjoy the school's one-of-a-kind location in the Appalachian Mountains. The Sanford Mall is a second lush spot for socializing and enjoying the weather. Among the modern red brick buildings you'll find the famous statue of the school's mascot, Yosef.
28. Michigan Technological University
Houghton, MI
The lakeside Michigan Technological University is one of the great value colleges with beautiful campuses.
Points Awarded: 8
Net Cost: $15,629
Michigan Technological University is located on the shores of the Keweenaw Waterway, overlooking Portage Lake and just minutes away from Lake Superior. This campus is also within close proximity to the school's very own Mont Ripley ski and snowboard hill, as well as the Portage Lake Golf Course. The Tech Trails around campus offer numerous opportunities for hiking, mountain biking, Nordic skiing and snowshoeing.
Although the campus is comprised of 925 acres, Michigan Tech also owns a 4,000-acre research forest. An architectural eye-pleaser on campus is the Rozsa Center for the Performing Arts, which is an 80,000-square-foot structure that was built to resemble the inclined look of the local copper mine hoists and shaft houses.
27. College of the Ozarks
Point Lookout, MO
The Neo-Gothic architecture of the Williams Memorial Chapel helps make the College of the Ozarks one of our great value colleges with beautiful campuses.
Points Awarded: 8
Net Cost: $14,152
The campus at the College of the Ozarks is overlooking Lake Taneycomo at Point Lookout, Mo. The C of O Greenhouses are home to the Clint McDade orchid collection, which consists of more than 7,000 plants.
Students at this school designed and built the Missouri Vietnam Veterans Memorial, which honors the 1,410 servicemen and women from Missouri who gave their lives during the Vietnam War. The Williams Memorial Chapel is a Neo-Gothic architectural beauty on this campus with an 80-foot-high vaulted ceiling and impressive stained glass windows. The Hyer Bell Tower is attached to this chapel.
26. The Evergreen State College
Olympia, WA
Evergreen State College is one of our great value colleges with beautiful campuses, owning over 1,000 acres of forest in the beautiful Pacific Northwest.
Points Awarded: 8
Net Cost: $13,630
The Evergreen State College spans over more than 1,000 acres of forest in the beautiful Pacific Northwest with a wide variety of scenic trails for students to explore and utilize for agricultural and ecological research. In addition to the lush forest foliage, Evergreen has 3,300 feet of unspoiled beach that borders the Puget Sound.
Off-campus, students have easy access to multiple state and national forests and parks. On-campus, you'll find a salmon-safe organic farm, Waterwise Pollinator Garden and a Grassy Knoll.
25. Utah State University
Logan, UT
Utah State University's Gothic Old Main building is picturesque against the mountainous backdrop, placing it on our list of great value colleges with beautiful campuses.
Points Awarded: 8
Net Cost: $12,184
At Utah State University , students are just minutes from two mountain ranges, two minutes from Logan Canyon and within a half-day's drive of six different national parks, including Yellowstone and Arches. Additionally, 10 major ski resorts are within a two-hour drive of campus, and the closest is only 45 minutes away.
The campus' Gothic-style Old Main was the first building built on campus back when the school was the Agricultural College of Utah, and it was added to the National Register of Historic Places in 1972. Today, it is the oldest academic structure still in use in the state, according to the university. In front of the building is the quad where students can relax outside with a stunning mountainous backdrop.
24. Kansas State University
Manhattan, KS
This school is one of our great value colleges with beautiful campuses because of the Kansas State University Gardens and Conservatory.
Points Awarded: 9
Net Cost: $15,784
For a college campus that is within a city nicknamed "The Little Apple," maintaining the splendor of a lush campus with plenty of gardens and greenery could be tough, but not for Kansas State University's main campus. Overall, the campus consists of 2,321 acres that encompass agricultural teaching and research activities, as well as a world-class champion golf course and an absolutely stunning horticultural display garden. The Kansas State University Gardens offers a variety of landscape and tested ornamental plants in different aesthetic settings, as well as a decorative fountain and the lovely conservatory building.
This campus also features the Konza Prairie Biological Station, which is the largest unplowed tallgrass prairie preserve in North America. Architecturally, the campus has several notable buildings, such as the Romanesque Revival-style Hale Library, home to the "Great Room" that features murals by David Hicks Overmyer.
23. Amherst College
Amherst, MA
Its historical architecture ensures that Amherst College earned its place among these great value colleges with beautiful campuses.
Points Awarded: 9
Net Cost: $14,687
Amherst College's campus consists of over 100 buildings across 1,000 acres of beautiful land in Amherst, Mass. About 500 of those acres are the Amherst College Wildlife Sanctuary, which is a diverse collection of both maintained and unmanaged open fields, wetlands, woods, river, upland woods, plantation pines, and ponds. The Sanctuary is an important place for both recreation and research.
The President's House, which has Greek and Georgian Revival elements, was designed by Warren Slade Howland and completed in its first form in 1835. The Gothic Revival steeple, which marks the entrance to the Mead Art Museum today, is "a cherished architectural vestige of College Church," according to the school. Although the church has not been on this site since 1949, the steeple remains a lovely artifact on campus.
22. New College of Florida
Sarasota, FL
The elegant Caples Mansion helped rank New College of Florida among our great value colleges with beautiful campuses.
Points Awarded: 9
Net Cost: $12,353
The New College of Florida is located on the Sarasota Bay with a subtropical climate, plenty of green scenery and stunning architecture. The campus' centerpiece consists of three elegant former mansions: College Hall, Cook Hall, and Caples Mansion, which was once owned by the Ringling Brothers. All three buildings have been on the National Register of Historic Places since 1982. The mansion has an Etowah marble facade and an adjoining well-manicured lawn.
The beautiful white sand beaches of Siesta Key are nearby and the John and Mable Ringling Museum of Art is next door to campus.
21. Brigham Young University
Provo, UT
Brigham Young University is one of our great value colleges with beautiful campuses with stunning views of the Wasatch Mountains in the background.
Points Awarded: 9
Net Cost: $12,335
Students have beautiful views of the nearby Wasatch Mountains regardless of where they are walking around campus at Brigham Young University . This campus is groomed so well that the Salt Lake City publication the Deseret News dubbed it "the Disneyland of American colleges and universities." The 23-mile-long Utah Lake is to the west of Provo while the 11,750-foot Mount Timpanogos is to the east, and the Provo River is just outside of campus.
With the Harrison Arboretum and Botany Pond, it's no shock that Brigham Young University was named top of its class in the campus category of the America in Bloom competition in 2005. Architecturally, notable features include the Carillon Bell Tower, which is a 90-foot-tall structure created by Markham & Markham Architects and Engineers. The campus is also home to a number of sculptures, including a handful outside of the campus' Museum of Art.
20. Northern Arizona University
Flagstaff, AZ
Old Main is the campus icon at Northern Arizona University, placing it at No. 20 among our great value colleges with beautiful campuses.
Points Awarded: 10
Net Cost: $12,946
The campus of Northern Arizona University has mostly modern buildings except for the school icon and oldest building, Old Main, which was designed in the Richardsonian Romanesque style and crafted out of locally quarried Moenkopi sandstone between 1894 and 1899. As far as the more modern-style buildings on campus go, the University Union, Native American Cultural Center and the state-of-the-art School of Communication are not hard on the eyes. The NAU Skydome is the second largest wood-framed dome in the world, covering 6.2 acres with a roof spanning more than 500 feet and rising 142 feet above the playing surface.
NAU is just 90 minutes from the Grand Canyon, and students in the school's renowned forestry program have easy access to almost 50,000 acres of forest and grasslands for hands-on research. Towering ponderosa pines surround campus, and some of the greenest buildings in the country are located here. And this is not the first time NAU has been featured on this site for being a great value!
19. University of Houston
Houston, TX
The Art Deco-style Ezekiel W. Cullen Building helped the University of Houston rank high among these great value colleges with beautiful campuses.
Points Awarded: 10
Net Cost: $12,618
One would be surprised to know that within one of the largest cities in Texas sits the University of Houston , which is comprised of 667 acres of lush greenery with eye-pleasing art and structures. Nearby Brays Bayou offers students a scenic hike and bike trail, and the campus has a community garden, multiple fountains, well-groomed lawns and parks that are abundant with trees. In the past few years, UH has invested more than $220 million to improve its campus.
UH is the first state university in Texas to establish a Percent for the Art program, dedicating one percent of the budget for each new building for public art. Today, the main campus has more than 260 pieces of public art on display. The architectural centerpiece of this campus is the Art Deco-style Ezekiel W. Cullen Building, which was designed by local architect Alfred C. Finn and is surrounded by the Cullen Family Plaza with the Cullen Plaza Fountain.
18. Fort Lewis College
Durango, CO
The Charles Dale Rea Clock Tower is a notable feature at Fort Lewis, one of our great value colleges with beautiful campuses.
Points Awarded: 11
Net Cost: $16,631
Fort Lewis College is situated in southwestern Colorado atop a mesa at 6,782 feet overlooking the Animas River Valley and historic downtown Durango, surrounded by the San Juan Mountains. The distinctive architectural theme of this campus utilizes locally quarried sandstone to acknowledge the region's Native Puebloan building style. One notable feature that sits at the heart of campus is the Charles Dale Rea Clock Tower, which was named for the college's first president. From the clock tower plaza, students can see the rest of the campus.
Within reach are various scenic trails for hiking and mountain biking with views of the snowcapped La Plata and San Juan mountains in the background. Students can walk, hike and bike on the scenic Rim Trail, which wraps around campus, or head into town using the Nature Trail of the woodsy Lamppost Trail, which wind down the mesa. Purgatory Resort, which is 30 miles north of downtown Durango, has been recognized as the best ski value by Trip Advisor and as a top-10 emerging ski town in North America by National Geographic.
17. Sonoma State University
Rohnert Park, CA
Sonoma State University's Green Music Center is one of the best examples of urban architecture, landing the school on our list of great value colleges with beautiful campuses.
Points Awarded: 11
Net Cost: $12,914
Sonoma State University is known for being one of the most modern colleges in all of California because of the urban architecture and landscaping, an example of which you can see with the Joan and Sanford I. Weill Hall or Green Music Center, pictured above. Sonoma State is known for its high-quality green buildings, which are specifically designed to save the school from using substantial amounts of energy, and Weill Hall is one of the best examples of this, opened in 2012 and created by William Rawn Associates Architects and California's AC Martin. Another eye-catching example of this urban architecture is the nearly 59,000-square-foot student center, which was constructed with UV ray reflective roofing, recycled rubber indoor track, recycled glass reinforced structural brick, recycled seatbelts to upholster seating and reclaimed water plumbing and non-potable water systems.
But don't let the urban architecture fool you – this campus has three lakes with local waterfowl, a variety of tree-lined walkways, and miles of walking trails that have access to the stunning Redwood trees.
16. College of William & Mary
Williamsburg, VA
Points Awarded: 12
Net Cost: $12,406
Although the College of William & Mary is a small university, this campus packs in a lot of beauty as the second-oldest college in the nation after Harvard. While the campus was founded in 1693, the brick Wren Building, created by British architect Christopher Wren, was completed in 1699 and continues to run today as the oldest academic building to have been used uninterruptedly in the U.S.
Across the center of the school's Old Campus stretches the grassy Sunken Garden from the Wren Building to the Crim Dell Pond. This garden was designed by architect Charles M. Robinson in the early 1920s, but it wasn't completed until 1936 because of how much it cost. The Crim Dell pond, where the garden ends, is a beautiful space surrounded by greenery and adorned with the wooden bridge that is known as a trademark for the campus and is pictured above. Matoaka Lake is another natural feature of this campus, which is home to the Lake Matoaka Amphitheatre.
15. University of Utah
Salt Lake City, UT
The amazing mountainous location of the University of Utah helped place the school among our top 15 great value colleges with beautiful campuses.
Points Awarded: 12
Net Cost: $11,277
The University of Utah is the third and best scoring school on this list that comes from this gorgeous state, and what location could be better than Salt Lake City? This campus sits along the base of the Wasatch and Oquirrh mountain ranges with the Great Salt Lake not far from the other side of the school. These, along with the five nearby national parks, offer nearly endless opportunities for any outdoor enthusiast. On campus, students have access to parks and walkways that feature local plant life, as well as the Red Butte Garden. This garden sits on 100 acres in the foothills on the eastern edge of campus, and it is the official arboretum of the state of Utah with over 18 acres of developed gardens and five miles of hiking trails that wind through an extensive natural area along Red Butte Creek.
On the architectural side of things, the University of Utah has even more bragging rights. The Neoclassical Kingsbury Hall opened in 1930 and sits on the U's historic President's Circle along with either other buildings, all of which are part of the historic district listed on the National Register of Historic Places since 1978. The architecture of these buildings ranges from the Neoclassical style of Kingsbury and the John Rockey Park Building to the Second Renaissance Revival-style Leroy E. Cowles Building and the National History Museum of Utah.
14. College of the Atlantic
Bar Harbor, ME
The Turrets, a stone castle built in 1895 helped land COA a spot as on our list of great value colleges with beautiful campuses.
Points Awarded: 13
Net Cost: $16,359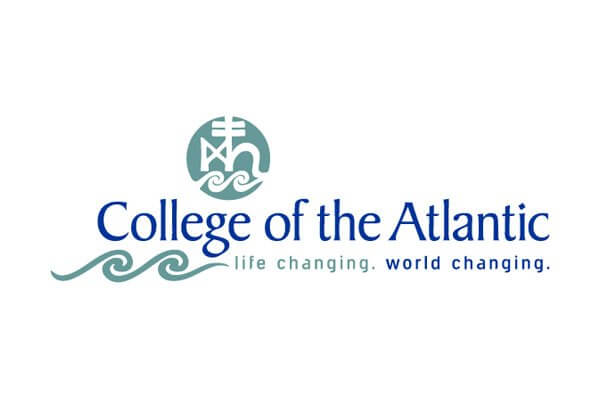 The College of the Atlantic has been featured by at least four other sources, including The Princeton Review, for its beautiful campus, located on Maine's Mount Desert Island. The front yard of this school is the Atlantic Ocean, which has created a wonderful local marine habitat. Garden areas are abundant on campus, including the Beatrix Farrand Garden, community organic garden, Sunken Garden, and more. Students also have access to the school's Beech Hill Farm, Peggy Rockefeller Farms, orchards, and the Acadia National Park.
The Arboretum of Eden spans over the entire campus and it holds a collection of trees and shrubs common in Maine and New England, as well as a special section of Asian species. The Eno Greenhouse holds large collections of xeric plants and tropical plants. Finally, the buildings on campus are a combination of rustic former cottages and newer green construction.
13. University of California, Santa Barbara
Santa Barbara, CA
UCSB's supreme location landed it on our list of great value colleges with beautiful campuses.
Points Awarded: 13
Net Cost: $14,966
The University of California in Santa Barbara is all about location! This campus is bordered by the Pacific Ocean on three sides with the Santa Ynez Mountains in the background, providing students with palm-framed vistas of pure beauty. Here, students are also graced with stunning views of the Channel Islands of California. Within the school's 1,055 acres lie numerous trails for biking and walking, some of which lead to the Goleta Beach County Park, which is known for its beaches and 1,500-foot pier.
The main notable architectural feature on UCSB's campus is the 175-foot Storke Tower, which is the tallest steel-and-cement structure in Santa Barbara County. It houses a 61-bell Carillon that sounds on the hour. Below the tower is the Storke Plaza, and open air campus venue for concerts, speakers, fairs, socials and more.
12. University of Mississippi
Oxford, MS
Points Awarded: 13
Net Cost: $14,803
Within the 2,000 acres of the University of Mississippi's campus, students will find the oldest college bell in America, as well as the Peddle Bell Tower with its carillon. The beautiful Greek Revival-style Lyceum is on the National Register for Historic Places and, along with the University Circle, serves as a campus landmark. Now acting as the administrative hub of the university, the Lyceum was completed in 1848, based on the designs of British-born architect William Nichols, Sr.
For those students who prefer the natural splendor of campus, The Grove is a haven and nationally-known tailgating venue with 10 acres of trees, picnic tables and a stage. Walkers on campus can take Bailey's Woods Trail from the University Museum, through paths dotted with trees and plant life, to the historic former abode of author William Faulkner.
11. Colorado State University
Fort Collins, CO
The Lagoon and West Lawn on Colorado State University's mountainous campus helps make it one of our great value colleges with beautiful campuses.
Points Awarded: 13
Net Cost: $14,511
The fact that students at Colorado State University experience over 300 sunny days each year may have contributed to the school's exceptional retention rate, but this campus also has everything from wetlands and low-carbon greenhouses to a great location one hour from the Rocky Mountain National Park. Horsetooth Reservoir and the Cache la Poudre River are just 15 minutes from campus, and over 315 bike routes and trails cover the city of Fort Collins. Pingree Park is an on-campus natural feature that has been a field site for natural resources students since 1916, providing a demanding four-week program that allows students hands-on outdoor opportunities, as well as opportunities for hiking, fishing, and wildlife viewing.
On campus, the Oval is a popular location for students to relax, play, and socialize while surrounded by American elms nearly a century old. One of the most recognized buildings on campus, the Administration Building, is on the south end of the Oval and is home to the Office of the President. A second notable architectural feature is Ammons Hall, which is known as the school's front door and is one of the oldest and most historic buildings on campus.
10. Harvard University
Cambridge, MA
Although its an Ivy League School, Harvard University made it onto our list of great value colleges with beautiful campuses.
Points Awarded: 14
Net Cost: $15,095
We had to max out the number of points given to Harvard University for being featured on other "most beautiful" sources at six points because almost every known resource has ranked this campus on its list. This university is the oldest place of higher education in the nation, and its main campus features absolutely beautiful architecture and complementary greenery sprawling across Boston's Charles River. The Harvard Yard is the oldest part of the campus and has been named one of the most beautiful and iconic American college quads by Business Insider.
Within the 209-acre campus, you will find striking buildings like the High Victorian Gothic Memorial Hall, which has been designated a US National Historic Landmark with its multicolored design. American author and former Harvard Law School student Henry James called it "a great, bristling brick Valhalla." Other notable structures include the Richardsonian Romanesque-style Sever Hall and the University Hall, which was built with white Chelmsford granite. The interior of Annenberg Hall is sure to amaze with its 9,000 square feet of space that features great hammerbeam trusses and a vast collection of artwork. Finally, the Widener Library is the largest university library in the world and home to one of only 14 Gutenberg Bibles.
9. University of California, Santa Cruz
Santa Cruz, CA
The natural beauty of the University of California, Santa Cruz helped rank this school among our top 10 great value colleges with beautiful campuses.
Points Awarded: 14
Net Cost: $14,759
Almost every building on the University of California, Santa Cruz's campus is surrounded by the beautiful Redwoods that grace this area of Central California. This campus is set amid the Santa Cruz Mountains with spectacular views of the Monterey Bay and the Pacific Ocean. If the underground is more of your thing, the three Porter Caves are located right off Empire Grade Road near UCSC's Port College. None of this natural beauty ceases once on campus because of the numerous hiking trails and walkways like the McHenry Bridge, which links the McHenry Library with the Hahn Student Services Building via a lovely canopy of trees. The campus Arboretum has extensive collections of plants from the South Pacific and South Africa, along with other exotic flora, a rock garden, and a eucalyptus grove.
The whole campus was planned by architect John Carl Warnecke and landscape architect Thomas Church, and it includes a 25-acre organic farm which is utilized for 28 percent of the produce used by the dining hall, along with the three-acre Alan Chadwick Garden. Architecturally, the Engineering 2 Building, which was dedicated in the fall of 2004, won a merit award for design from the American Institute of Architects, Los Angeles Chapter. Contextual architecture seamlessly blends the new buildings in with the existing quads, to include the eye-pleasing multicolored Academic Resource Center (ARC).
8. University of Montana
Missoula, MT
The University of Montana's iconic Main Hall and its surrounding natural setting make this school one of our great value colleges with beautiful campuses.
Points Awarded: 14
Net Cost: $13,112
Rolling Stone magazine labeled the University of Montana the "most scenic campus in America" and Outside magazine ranked it "among the top 10 colleges nationally for combining academic quality and outdoor recreation." This campus is comprised of 56 acres at the bottom of the 1,958-foot Mount Sentinel in western Montana's striking natural setting next to the Clark Fork River. Here, students have access to the 28,000-acre Lubrecht Experimental Forest, the Flathead Lake Biological Station on the shores of 184-square-mile Flathead Lake, the 3,500-acre Bandy Ranch and the 6,000-acre Boone and Crocket Club's Theodore Roosevelt Memorial Ranch. The Experimental Forest is managed by the school's College of Forestry and Conservation as an outdoor classroom for students and a recreational retreat for the public.
The original plans for the campus grounds were developed by Professor Frederick Scheuch in 1895, which included the primary buildings arranged about the verdant Oval. Today, campus is home to more than 60 architecturally unique buildings. Memorial Row is a ponderosa pine-lined avenue that acts as a monument to those affiliated with the school who died in World War I. Pictured above is the iconic Main Hall with its clock tower in front of the ascending "M" trail, which offers a spectacular view of nearby Missoula.
7. University of Washington
Seattle, WA
The University of Washington's Quad has 31 Yoshino cherry trees, moving it toward the top of our list of great value colleges with beautiful campuses.
Points Awarded: 14
Net Cost: $10,374
The Collegiate Gothic Suzzallo Library of the University of Washington's Seattle campus has 35-foot-high stained-glass windows and elaborately gilded vaulted ceilings that stretch 65 feet into the air, and this is only one example of some of the architectural beauty found at this school. The Drumheller Fountain acts as the heart of campus, and it provides students with an awesome spot for stunning vistas of snowcapped Mount Rainier in the distance. Neptune Theater has been recently renovated, but it originally opened in the University District in 1921.
This school's urban setting is paired up with beautiful areas like the Quad, which is home to 31 Yoshino cherry trees that bloom beautifully against the red brick buildings. The campus is also on the coast of Union Bay and Lake Union, and next to the Union Bay Natural Area. You will find mass expanses of greenery in front of many of the buildings, including Parrington Lawn, Denny Yard, and Grieg Garden.
6. University of Maine
Orono, ME
The natural beauty and lower cost of the University of Maine makes it one of our great value colleges with beautiful campuses.
Points Awarded: 15
Net Cost: $16,505
The scenic setting of the University of Maine is complete with forests, the Stillwater and Penobscot rivers and impressive architecture. Legendary architect Frederick Law Olmsted designed this beautiful campus' landscape, as well as Central Park in New York City and the White House grounds. The campus, which was designated as an arboretum in 2003, is fully-equipped with six gardens, greenhouses and arboretums, including the Lyle E. Littlefield Ornamental Gardens.
The buildings on UMaine's campus vary from vernacular domestic structures to substantial Romanesque, Italianate and Neoclassical buildings. On campus, there are 15 miles of running, biking and cross-country skiing trails.
5. University of Virginia
Charlottesville, VA
Thomas Jefferson founded UVA, one of our great value colleges with beautiful campuses.
Points Awarded: 15
Net Cost: $14,069
The University of Virginia is the only university to be named a UNESCO World Heritage Site, which includes the Academical Village and the Central Grounds. The Huffington Post UK included UVA among its "15 of the World's Most Beautiful Universities" in 2013 and referred to the schools as "The quintessential southern U.S. university." In 1976 the campus as a whole was also named "the proudest achievement of American architecture in the past 200 years" by the American Institute of Architects.
UVA's iconic campus is known for its green spaces accompanied by red brick Jeffersonian architecture, named after the school's founder, Thomas Jefferson. Jefferson chose the school's founding, which was in 1819 as one of the only three of his many accomplishments noted on his gravestone. Although the present-day building is not the original due to a fire, the Neoclassical domed Rotunda was modeled after Pantheon.
4. The University of Hawaii Mānoa
Honolulu, HI
Hawai'i Hall and its fountain-adorned courtyard helped ranked the University of Hawaii among our top five great value colleges with beautiful campuses.
Points Awarded: 15
Net Cost: $12,163
How could we not include a school on this list that is located on the paradise that is the Hawaiian Islands like the University of Hawaii at Mānoa ? This campus is on a lush hillside on the south shore of Oahu that overlooks Honolulu with other views of the famous Diamond Head volcano. Plus, not only are the world-famous Waikiki and Ala Moana beaches just minutes away from campus, but they are also pleasant year-round. Queens, Makaha, Pipeline, and just about every other surf spot on the island are only 45 minutes from campus as well.
Lyon Arboretum is the only university botanical garden that is located in a tropical rainforest within the U.S., and the school's Marine Biology Lab is built on an actual coral reef. Other unique features on this campus include the Royal Sala Thai, traditional sal or pavilion, which was a gift from King Bhumibol Adulyadej of Thailand and bears the Royal Seal. The campus palmarium dates back to 1912 when various species of palm trees from around the world began to take root around what was then known as Main Hall. Today's Hawai'i Hall is the first permanent building on campus with its fountain in the front courtyard. Finally, the intricate Center for Korean Studies was designed by Korean architects and fashioned by Korean craftsmen, modeled after the Kyongbok Palace in Seoul.
3. University of Wisconsin-Madison
Madison, WI
Among our great value colleges with beautiful campuses, the University of Wisconsin-Madison's Red Gym stands out for its castle-like presence.
Points Awarded: 16
Net Cost: $16,131
With a beautiful campus located on an isthmus between the Mendota and Monona lakes, it's no wonder that the University of Wisconsin-Madison has a 95 percent student retention rate. Four national landmarks reside on this campus, including the beautiful, historic Bascom Hall and Red Gym – both of which are listed on the National Register of Historic Places. The Red Gym was built in the Norman style with Romanesque arches and heavy turrets, while Bascom Hall's architecture has a Renaissance Revival style.
Among the wide open spaces and running, hiking and biking trails are natural features such as the UW Arboretum, which includes the oldest and most varied collection of restored ecological communities in the world, according to the Arboretum's webpage. Students can also enjoy the Curtis Prairie, Longnecker Gardens and Picnic Point, which is being renovated to repair the eroding shoreline and construct terraced steps with a clearer view of the city's skyline.
2. Indiana University – Bloomington
Bloomington, IN
The limestone Sample Gates with its flower beds create a lovely entrance for Indiana University – Bloomington as a small example of what makes this school our second out of 35 great value colleges with beautiful campuses.
Points Awarded: 16
Net Cost: $11,573
The 1,937-acre Indiana University – Bloomington was founded in 1820, and most of the beautiful structures at this school were crafted with locally-sourced Indiana limestone, including the iconic Sample Gates. A red brick path begins at these gates with their flowerbeds that bloom red tulips in the spring, and it winds through the Dunn's Woods and Meadows, which are full of 80 varieties of mature trees. Dunn's Woods also has a number of walking trails, which are just one portion of the 1,200 miles of bike and running trails that students will find at this campus.
Another notable building on campus is the Maxwell Hall, which houses some of the university's admin offices and features the same limestone in its stunning façade and peaked tower. This Romanesque-style building was completed in 1891 and designed by Indiana architect George W. Bunting. The Student Building with its soaring clock tower is listed on the National Historical Registrar. I.M. Pei's IU Art Museum displays over 30,000 works of art on campus. Nestled in the hills of south-central Indiana, IU is within a short drive from Indiana's largest lake, a national forest, a state park, and more.
1. University of North Carolina at Chapel Hill
Chapel Hill, NC
The famous Old Well is an icon of the University of North Carolina at Chapel Hill, one small feature that put UNC in first place among our great value colleges with beautiful campuses.
Points Awarded: 17
Net Cost: $10,936
The University of North Carolina at Chapel Hill was the very first public university in the nation after being chartered in 1789, and today the campus consists of a stunning botanical garden that is spread across 729 acres. It is home to 14 collections and thousands of varieties of plant life, including carnivorous species. Coker Arboretum on campus is managed by the North Carolina Botanical Garden and is one of the garden's oldest tracts, consisting of various plantings, including flowering trees and shrubs, as well as bulb and perennial displays. The Large Battle Park on campus offers students numerous walking trails and a forest.
The fertile North Carolina landscape unites UNC's buildings in a beautiful way with The Pit, a sunken courtyard beside the Student Union, as one example, and the iconic Old Well as another. The famous Old Well is a Neoclassical rotunda, which is said to grant good luck to anyone who drinks its water. It is the brainchild of previous school registrar Eugene Lewis Harris, who designed it after the Temple of Love in the Garden of Versailles, and it is now designated an American Society of Landscape Architects' National Landmark for Outstanding Landscape Architecture. Other notable architectural features include the Morehead-Patterson Bell Tower and the Carolina Inn. The Inn is recognized as one of America's "cultural resources worthy of preservation," and it is listed on the National Register of Historic Places. Finally, Old East was the first building constructed on campus in 1793, and it was also declared a National Historic Landmark in 1966.
Methodology
Information was sourced from the National Center for Education Statistics' College Navigator Database , Wikipedia, the individual schools' websites and other "most beautiful college campuses" list articles.
The point system we used in our ranking works as follows:
Affordability: Net Cost under $10,000 (2 points) and under $15,000 (1 point)
Awards and Recognition: International accolade (2 points), national accolade (1 point), appearance on the National Register of Historic Places (1 point)
Other Recognition: Inclusion on other noteworthy "most beautiful college campuses" list articles (1 point per list)
Notable Features: Features, such as significant architecture, famous buildings, outdoor activity centers, farms, botanical gardens, arboretums, historical relevance, etc. (1 point each, or 2 points if there are several types of one feature, such as gardens)
Location: If the location is of certain significance, such as part of a national park or forest, on a hilltop or mountain, forest, etc. (1 point)
Student Enjoyment: Full-time student retention rates, as reported by College Navigator, above 75% (1 point) and 90% and above (2 points)
In cases where two or more schools have the same number of points, their rank order is determined by the schools' affordability. The schools with lower net costs, as reported by the College Navigator Database, received the better ranking (lower net cost = lower number).
Related Rankings
Sources